Angel Juicer
Features
Angelia's Superior Nutritional Value
Juice by Angelia has 17 times the calcium and 5 times the magnesium in comparison to the 3rd party's.
In other words, 1 glass of juice by Angelia is more nutritious than 17 glasses of juice by others.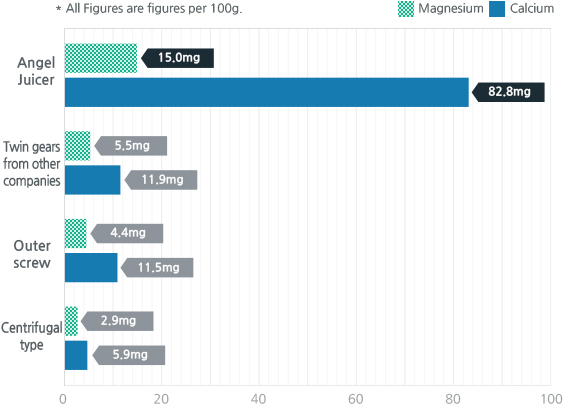 엔젤녹즙기 영양성분 비교표 마그네슘과 칼슘의 수치를 엔젤녹즙기, 타사쌍기어, 외스크류, 원심분리식 별로 비교한 표
Magnesium
Calcium
Angel
juicer
15.0
mg
82.8
mg
Twin gear from other company

5.5


mg

11.9


mg
Outer
screw

4.4


mg

11.5


mg
Centrifugal type

2.9


mg

5.9


mg
---
Angelia's Exceptional Extraction Rate
Angelia with Twin Gears measuring 22cm in length with Multi-Stage Extraction (MSE™) & Low Speed Cone Screw (LSCS™) technology can extract up to 58% more yield than the 3rd party company.

엔젤녹즙기 착즙량 비교표 엔젤녹즙기, 타사별 착즙량을 비교한 표
Angel Juicer
Other products
Extraction Amount
856
g

540


g
---
Angelia's Savings On Material Costs
If a family of 4 consumed everyday, approximately 450,000 won can be saved on material costs.
Angelia's superior extraction rate (approx. 85%) will require less ingredients to achieve the same amount of juice in comparison to similar products and will reduce the financial burden of the customer in the long run.
엔젤녹즙기와 타사의 재료비 비교결과 약 45만원 절약!
엔젤녹즙기 재료비 비교표 엔젤녹즙기, 타사별 재료비를 비교한 표

| | Ingredient Amount | Extract Amount | Extraction rate | Recommended 1 Day Consumption Amount for a Family of 4 Amount of Ingredients for 3.2L | Cost of Ingredients (7,000 won/1kg) |
| --- | --- | --- | --- | --- | --- |
| Difference | - | 316g | 31% | 2.2kg | Approx. 15,000 won |
| Angel Juice Extractor | 1kg | 856g | 85% | 3.7kg | Approx. 26,000 won |
| Other Companies | 1kg | 540g | 54% | 5.9kg | Approx. 41,000 won |